Workshops
David Bloom presents workshops nationwide on jazz music improvisation, arranging, composing and more.
Watch a Bloom Seminar
Posters from Workshops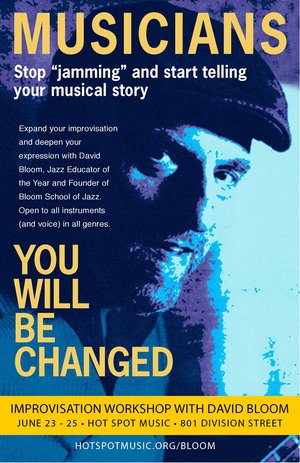 Examples of Workshops
This is an example of the workshop as organized by Hot Spot Music in Minnesota:
BEGINNER / ADV. BEGINNER
These combos will be comprised of musicians adept in any genre who want to dig deeper into the profound language of improvisation. Learn to tell dramatic musical stories rather than ramble around the instrument without a plan or a purpose. This course will awaken each participant's musical aesthetic and raise them to new heights of creative awareness. Each student will learn how to hear and create musical statements with meaningful grammar and syntax using Bloom's Ten Commandments of Jazz soloing and Master Improvisational Exercises. Solos will be recorded and assessed by Bloom and fellow participants to help cement lasting learning outcomes. Listening and execution skills will be greatly elevated, and students will never hear music the same way. After this workshop, you will:
Have a basic road map for consistent creation of meaningful jazz solos
Understand how and why certain scales and chords function well within a particular tune
Listen to recordings of yourself and learn how to constructively critique your own playing and that of your fellow musicians
Meet other musicians and be a part of the local jazz community
Be equipped to perform a well-prepared set with your combo
Prerequisites – All participants should be able to play or sing major scales. Guitar and keyboard players must be able to play 7th chords.
INTERMEDIATE / ADVANCED
Intended for pros, semi-pros who perform regularly in front of an audience, this session will breath new life into musicians who feel plagued with redundancy. It will cover the same material as the beginner course but with more sophisticated material such as enhanced scale colors and altered chords. Students will leave feeling enthused about exploiting the many expressive opportunities they have been missing. They will experience a much larger palate of colors to use for more varied expression and deeper audience engagement.
ESTABLISHED ENSEMBLE
This format is intended for existing ensembles with an established musical rapport. It focuses on elevating the playing and listening skills of each individual musician as well as crafting a compelling group presentation. For groups who often find themselves drifting into auto-pilot, this course will miraculously transform ordinary performances into a highly dramatic journey for both the music makers and the audience. Students will learn Bloom's Laws, a highly specific set of performance rules that demand the highest level of quality. They will leave this course with both the tools and awareness to create interesting arrangements that highlight the full range of weights and timbres specific to each ensemble. Arrangements will then be assembled into a performance set that relays a musical arc rich with interest, variation and expression. This course is guaranteed to replace those same old sounds with a world-class performance. Your audience will thank you for it.
Schedule a Workshop
Schedule a workshop in your area, contact us here.
More Teaching: Bloom School of Jazz | Educator Highlights | Teaching Philosophy | Testimonials