Articles by David Bloom
Here are featured articles by David Bloom. Highlights from his work as a freelance writer, these book reviews were published in The Chicago Tribune. Scroll down for work featured in Chicago Jazz Magazine and Guitar Player.
Book reviews
Studs Terkel's inspiring look at some jazz greats
by David Bloom, as published in The Chicago Tribune , March 16, 2003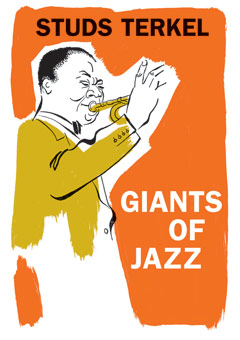 For as long as I have loved music, I have tried to keep in mind something that the great saxophonist Charlie Parker once said:
"Music is your own experience, your thoughts, your wisdom. If you don't live it, it won't come out in your horn."
That's just the sort of passionate philosophy that echoes, with variations, throughout Studs Terkel's marvelous and moving "Giants of Jazz."
This all-but-forgotten book was first published in 1957, when Terkel was a beloved, if little known, local radio-show host, years away from starting the series of oral histories that would win him fame, fortune, the Pulitzer Prize (for 1985's "The Good War") and make him a national treasure.
An impressive, edifying anthology of jazz criticism
By David Bloom, as publishd in The Chicago Tribune January 16, 2005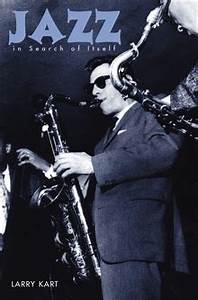 When jazz saxophonist Johnny Griffin was asked the meaning of "improvisation," he replied, "the excitement of not knowing." That may sound perplexing coming from a major jazz artist. A musician at Griffin's level certainly sounds like he knows what he's doing and what he's going to do. But that's the beauty of great jazz: searching for truth in the moment. And it's ironic that the greater the player, the less he knows, beforehand, about where he is going.
That's what drew veteran jazz critic Larry Kart–and many of us–to the music in the first place. The premise of Kart's book, "Jazz in Search of Itself," is that jazz is, among other things, " `a form of self-enactment in sound.' And the music provides us with any number of instances of the need to keep writing openly and honestly in the book of life."
Kart has amassed an impressive collection of his reviews and interviews, originally published in Down Beat magazine and the Chicago Tribune (where he was a critic and editor) over his 40-year career, as well as liner notes and other commentary. Kart reveals edifying and interesting insider information on more than 70 jazz musicians, singers and composers. These range from the familiar (Griffin, Billie Holiday, Sonny Rollins, Tony Bennett, Stan Getz and Sarah Vaughan) to some of the more obscure players known only to jazz aficionados (Herbie Nichols, Al Cohn, Tina Brooks, Hank Mobley and my old bandmate, Chicago's own Wilbur Campbell).
Article in print: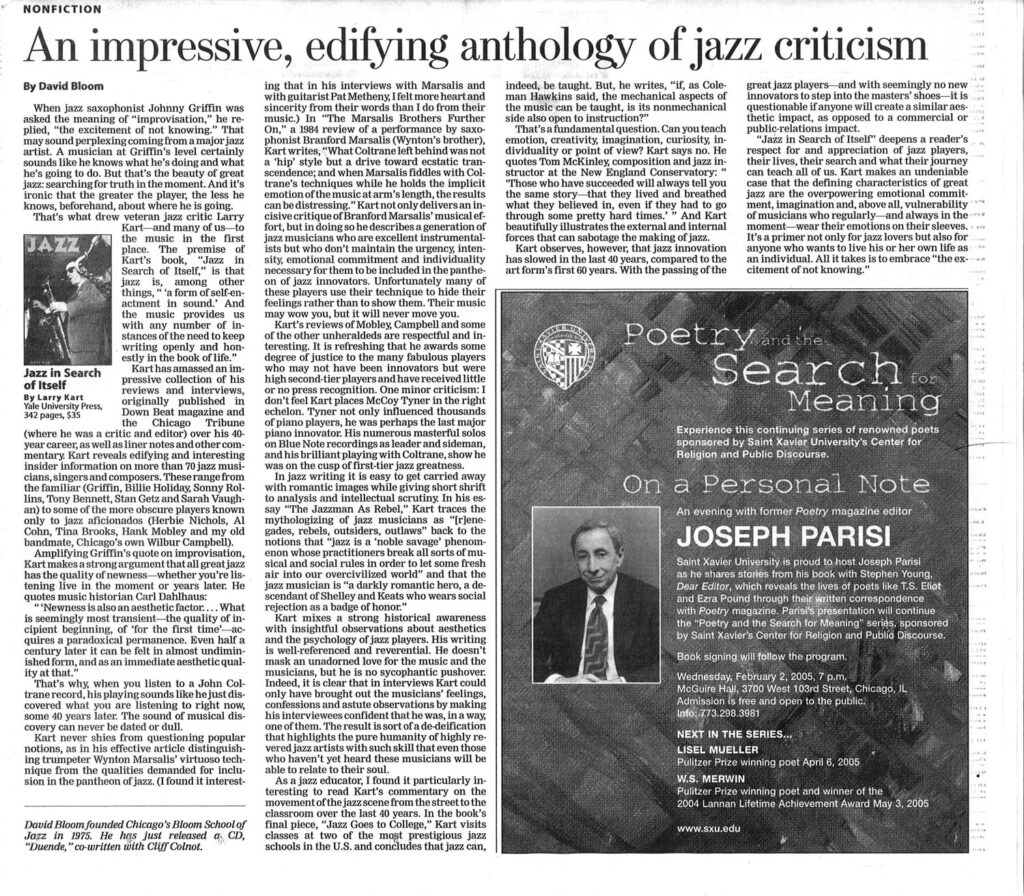 Opinion & Instruction
Bloom's Laws for Effective Music Performance
by David Bloom as published in Chicago Jazz Magazine (2008)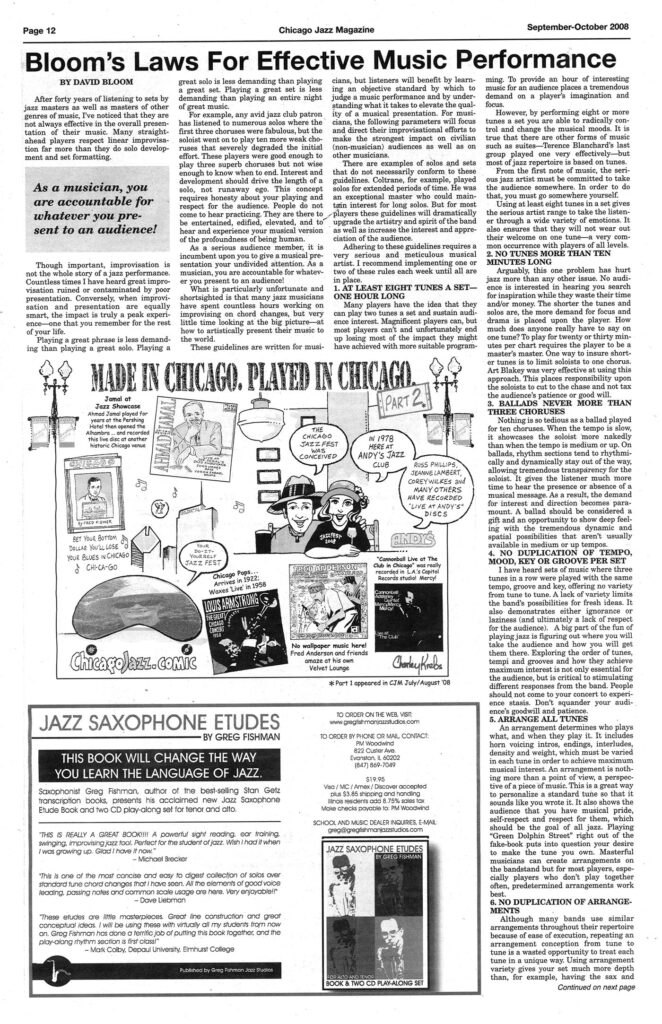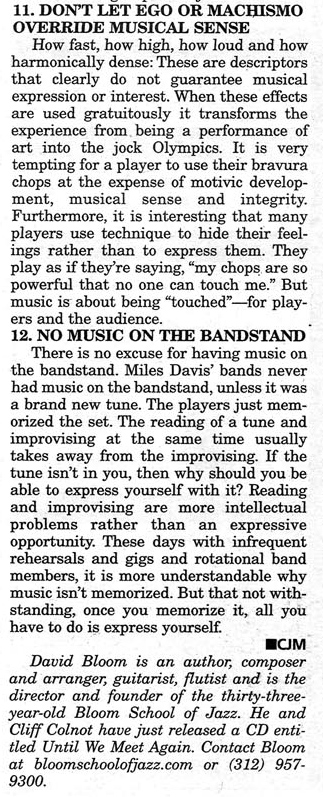 Jazz: Dead or Alive?
by David Bloom as published in Chicago Jazz Magazine, September-October 2007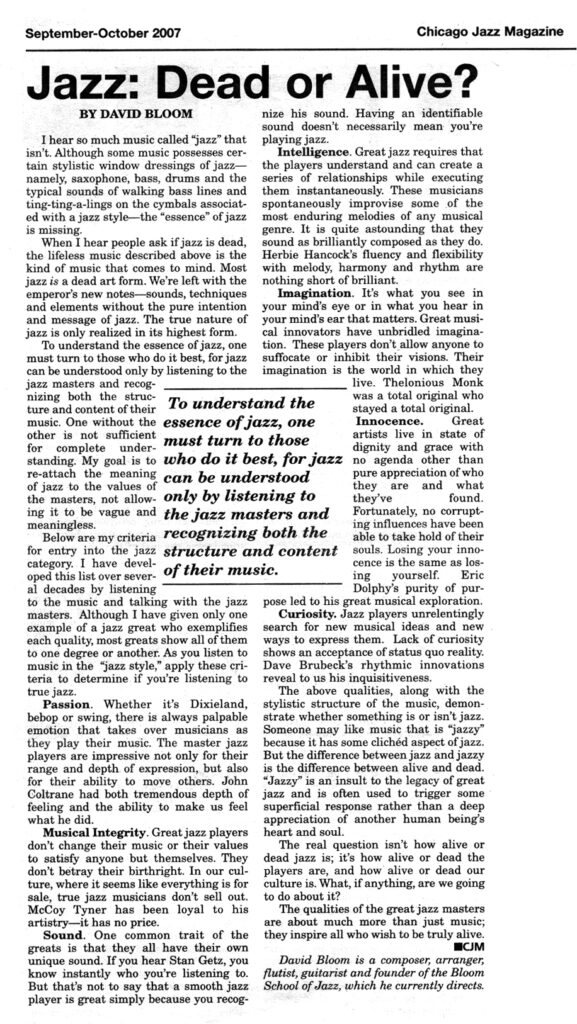 Escaping Yourself To Be You
by David Bloom as published in Chicago Jazz Magazine (2005)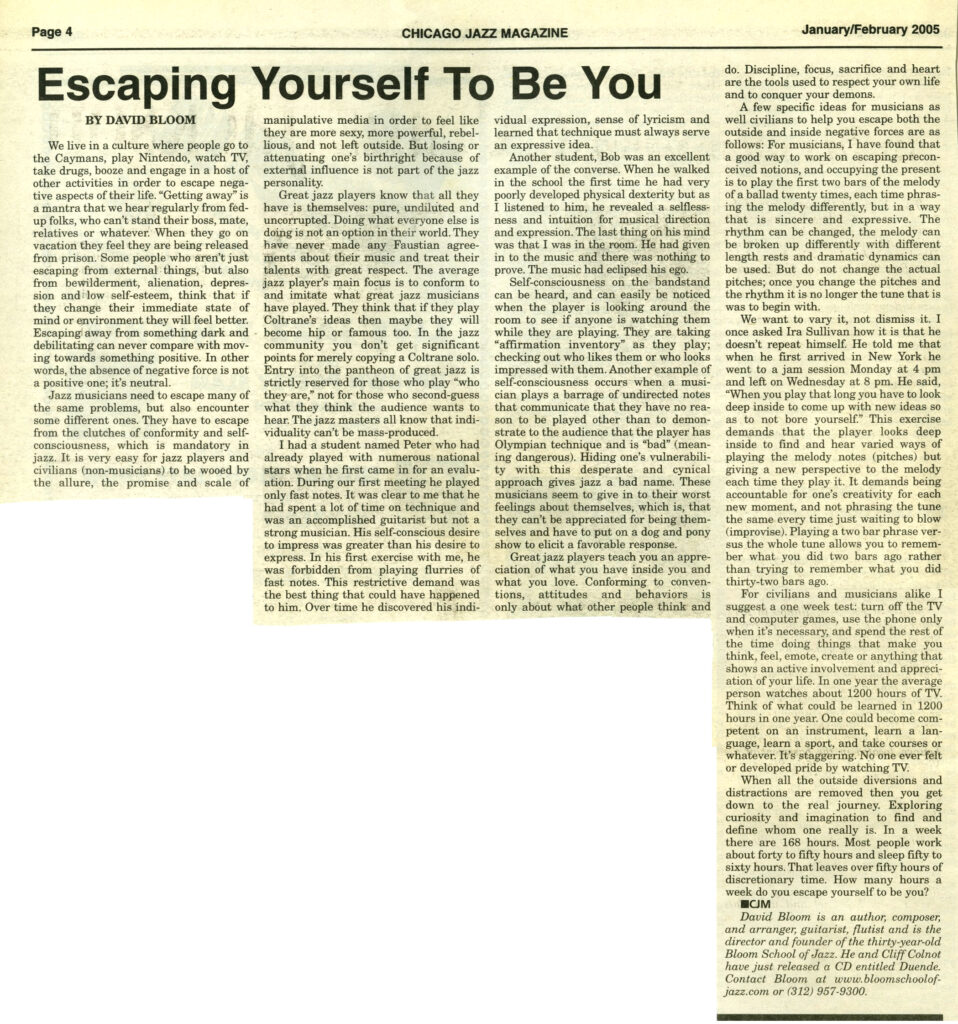 Music Education
Got Melody?
by David Bloom (as told to Jude Gold) as published in Guitar Player magazine (2007)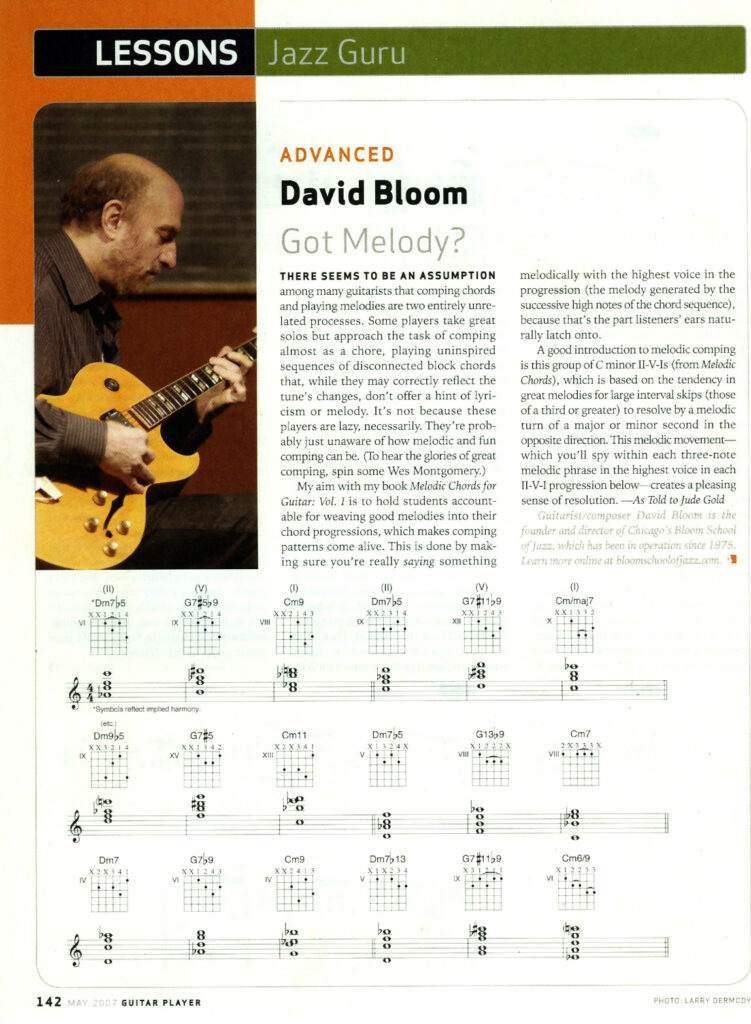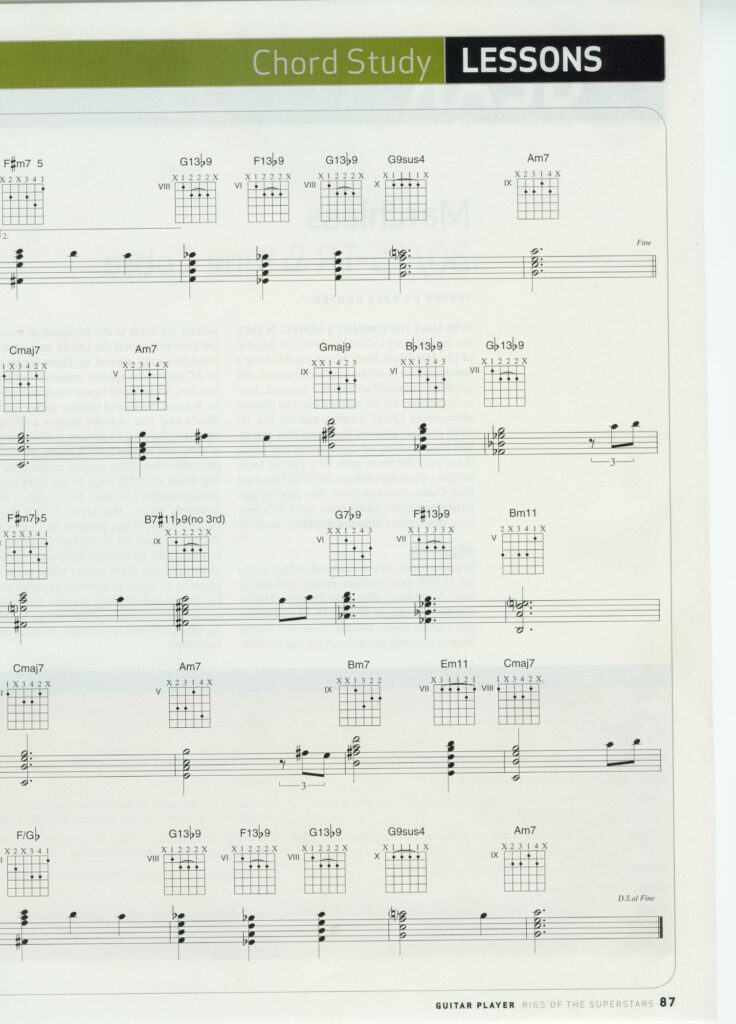 Blues for Right Now
by David Bloom (as told to Jude Gold) as published in Guitar Player magazine (2005)